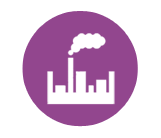 Manufacturing and Industrial
Background
International consortiums, globalisation, path-breaking technology, shift in policies, alternate resources and other such factors have shifted the industrial landscape globally. Manufacturing and industrial clients need the expertise of an executive search firm, which understands the realities of a rapidly evolving market. Every industry, irrespective of its nature and size, has its challenges triggered by the new-age economy. The automotive and aerospace industry for instance, face long cycle-times for product approvals. The global apparel industry on the other hand, is a constant victim of rapidly changing labour costs, consumer behaviour and currency fluctuations. Every industry needs executives who can think and act beyond the realms of traditional practices and embrace modern and creative methods.
Finman's role:
We, at Finman, are 'insiders' who closely follow every development in the industry with the eyes of an entrepreneur. Our strong network and expertise in the apparel industry has allowed us to attract talent in companies across Africa, South Asia, Hong Kong and China. We have, over the years, filled the roles of CEOs, operational heads, functional executives and financial experts in the industry.
We have also garnered a generous amount of experience in the automotive and aerospace industry by working with several global clients, including India's only electric car manufacturer.